Welcome to the airport Ceasar Manrique Lanzarote. The airport bears the name of a really famous personality of this island. She will accompany you during your whole stay. Thanks to Ceasar Manrique's work and creativity, becuase of his work Lanzarote has remained very original. But more about this later.
Maybe you would like to rent a car for your holiday stay:
After you have picked up your luggage, go directly to the exit of the arrival hall. Near the exit you can choose from several car rental companies. If you want to use a car, it is recommended to book this online before you arrive. Just have a look at doyouspain.com. A rental car will help you discover this beautiful island. Last we rented it was about 111 Euro for one week including fully comprehensive insurance. By the way, fully comprehensive insurance is advisable, then you only need to return the car at the airport at the end of your trip and you don't have to justify yourself for damages that you didn't cause.
From the airport you always drive in the direction of Playa Blanca (Yaiza). Stay on the LZ2. You will pass the small village Macher and drive past Yaiza. It takes you a little more than half an hour driving time.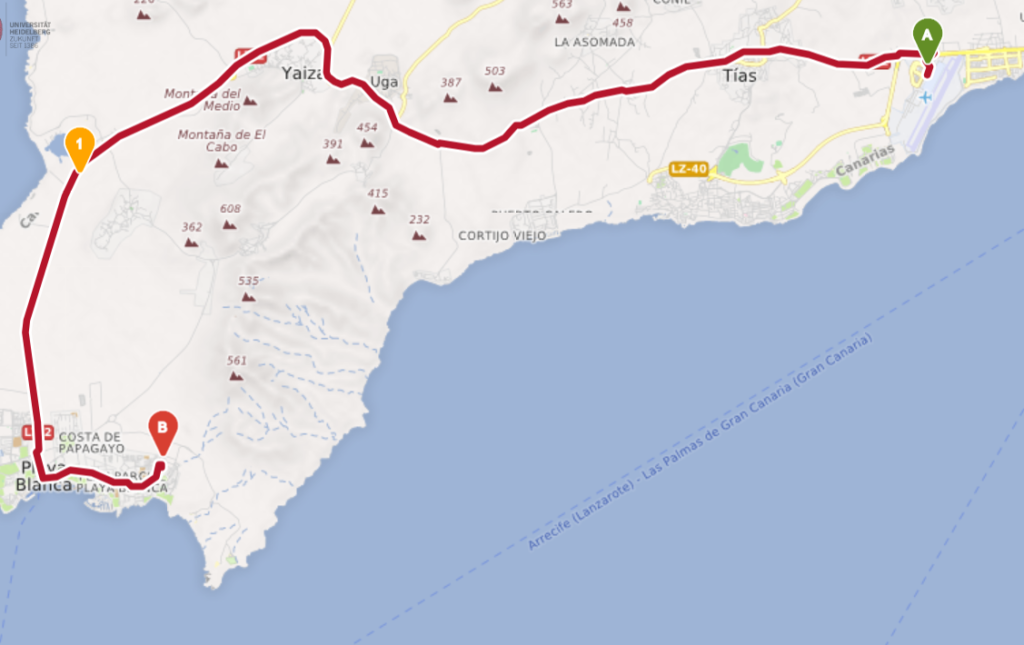 If you use a navigation device, then give as address: Calle el Moral 11, 35580, Playa Blanca, Urbanización San Marcial de Rubicón.
In Playa Blanca you simply drive through the town staying on the Avenida de Papagayo. After about 1,5km you turn right on the Calle Las Bugainvillas and immediately left on the Calle el Moral. Then only 150 meters up the hill and you will see our Casa on the left hand side. You can park in front of the house.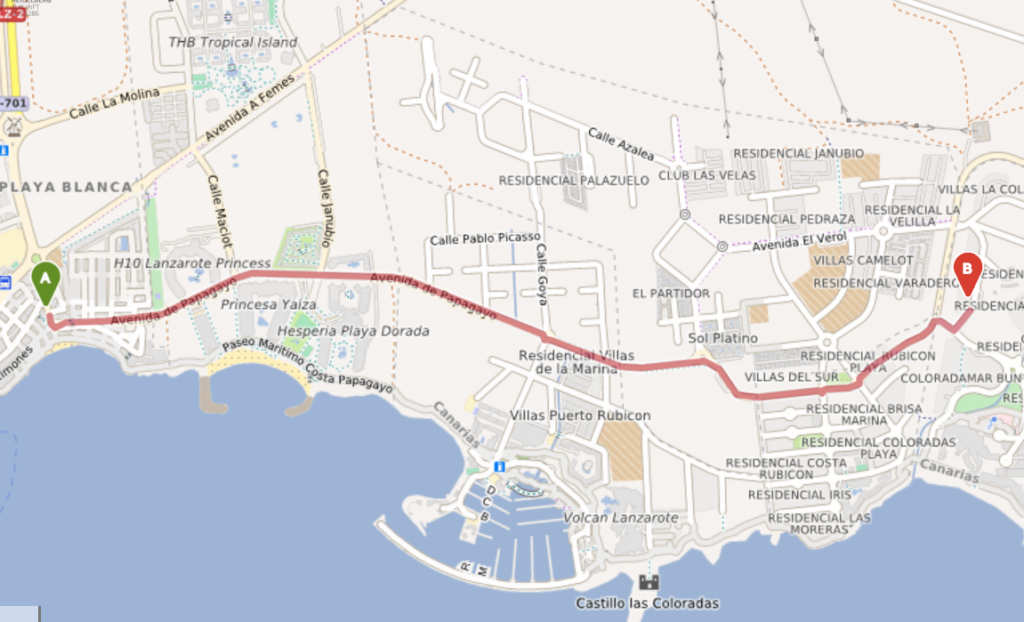 Or go by taxi to Playa Blanca:
If you like to take a taxi to Playa Blanca, just leave the car rental companies on your left and walk towards the exit. There you find the taxis. Ask the driver for a fixed price, this should be between 50 and 55 Euro. Don't be surprised, because in Spain surcharges are not uncommon, for example for the journey to a port or airport. There is also a night tariff for journeys after 10 pm. You will also encounter an initial tariff, as is usual in Germany. This is about 3.20 Euros. Basically, taxi driving in Lanzarote is always very cheap. In Playa Blanca, for example, you can get from the village to Casa Mango for less than 4 Euro.
Shopping, the most necessary for the start:
If Silke and I use a rented car during our stay in Lanzarote, we usually stop at the Mercadona before we drive to Playa Blanca. The Mercadona is a big supermarket in Playa Honda (direction Arrecife). Instead of driving from the airport in direction to Playa Blanca, you immediately drive in direction to Arrecife. Then takes the next exit. The Mercadona is open until 9:30pm. When you leave the airport by around 8:45pm at the latest, you should plan visiting the Mercadona first. Mercadona is consistently cheaper than the supermarkets in Playa Blanca. You will also find a Lidl near the Mercadona.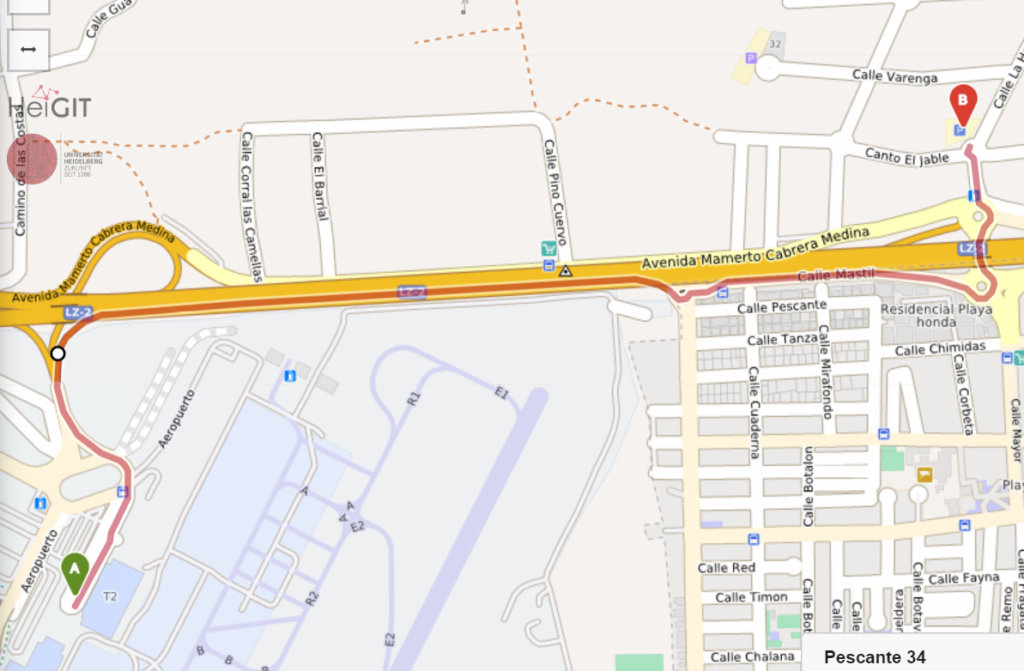 Boarding Casa Mango:
Upfront your arrival we'll send you your access code to Casa Mango. A1 Villa Management will be at your disposal any time. They speak English. You also can contact us directly to clarify any problem for you.
Unpack the suitcase:
Well, get yourself settled in. If you still feel hungry on the first day, just go to Carlos. You've probably already noticed his restaurant, it's on the corner of Calle Las Bungainvillas, Calle el Moral.
If you like to take an evening walk, then just go down to the beach, or saunter into the Marina Rubicon.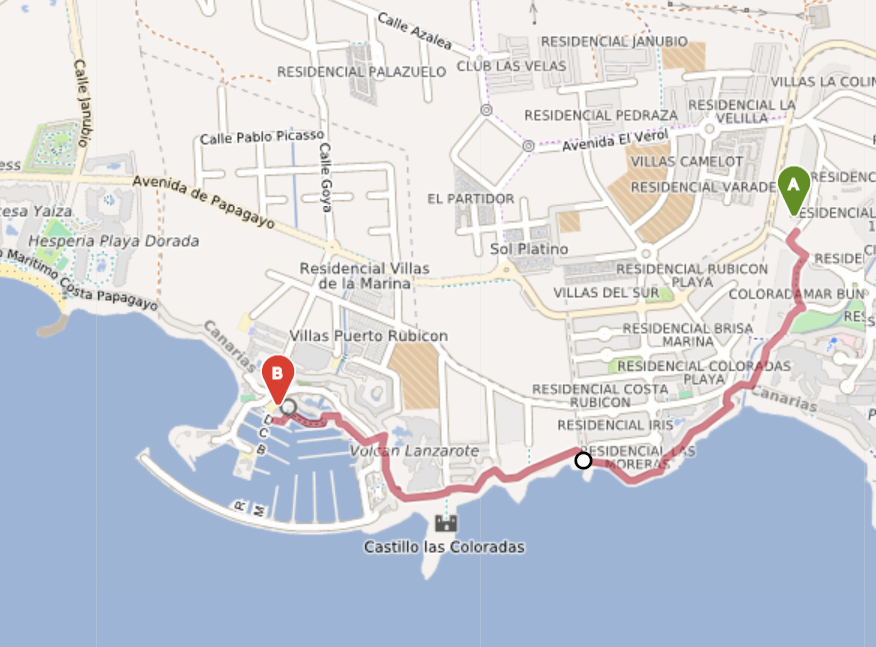 Secret tip: The Bar Berrugo, at the exit of the marina, delicious tapas (small portion, tapas = small cap) or Esquenas (large portion).
Say hello to Mattheo from us.