Our Customers as of 12.09.2021 on Booking.com have rated us with total of 9.7 points (Comfort: 9.2). We find this awsome and like to say a big Thank You in return.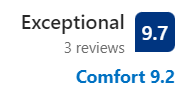 Ana

Spain
Very good stay. House with everything you need for a few great days.
7 nights · August 2021
Modern and functional bathrooms. Perfect cleaning.
Juan

Spain
Nice, comfortable, quiet villa and very close to Papagallo
14 nights · August 2021
Well furnished and equipped, in a quiet area with a nice garden.
Jose

Spain
Exceptional
10 nights · September 2021
Beautiful house with a beautiful garden where you can stand in the evening
Graeme

Großbritannien
A great weeks winter sun – 10
7 Nights · February 2020
"We (Myself, my wife and our 2 kids 5 & 7) stayed at Casa Mango for 7 nights in February The location is wonderful, so peaceful and quite yet so close to everything The house is large, airy, has every comfort that you would need on holiday and the dishwasher and washing machine were really appreciated Papagayo beach is next door, the marina with some great shops, great places to eat out and some fantastic boats is just around the corner The kids loved the garden and the patio area and in the evening a few candles transformed the garden and patio area into a great place for mom and dad to unwind once the kids were in bed The hosts were great and took care of all the details very professionally We will be going back"
Fortgirl

Großbritannien
Außergewöhnlich – 9,6
7 Nights · November 2018
"This house is fantastic ! It had every comfort and a lovely garden for lounging in the sun. Ivana and Mark made everything simple for us and sent a welcome message on arrival. It's a great area, nice and quiet and everything you need is within walking distance. We will definitely be back."
Stephen

Großbritannien
Wonderful – 9,6
7 Nächte · Februar 2020
"Very clean, quiet location, short walk to the beach Small but secluded garden with shade Comfortable beds"
Raul

Spanien
Sobresaliente ¡¡¡ – 9,6
13 Nights · August 2019
La casa es perfecta para disfrutar de las vacaciones en Lanzarote, un amplio jardín con preciosas vistas y poder degustar deliciosas barbacoas, habitaciones amplias y con todo lo necesario en menaje y utensilios, las playas muy cerca, incluso a pié. Las fotos son fiel reflejo de la realidad. Buena Ubicación. Buenos anfitriones que se preocupan por los detalles y te hacen pasar una agradable estancia Ricos mangos : ) Si vuelvo a Lanzarote, volvería sin dudarlo Raúl